A Guide to Life, Careers,
and the Art of Networking
Traditional networking isn't working.
This groundbreaking book flips the classic idea of networking on its head.
The way we're networking isn't working. Somehow, we've come to the conclusion that networking is about attending events and meeting new people. Search Meetup.com for "networking events" and there will be no end to the list. We have arrived at this false equivalency because we have come to think of networking as meeting new people. Even worse, we have come to equate networking with a quid-pro-quo pursuit of getting something. "How can this person help me?" we often ask ourselves.
Helpful reveals that networking is much more than just meeting new people; it's about embracing the world with a spirit of helpfulness to create, freshen, and strengthen deep human connections.
Readers will learn to master the ultimate networking question (and how to deal with the world's worst networking question!), networking strategies for introverts and extroverts, the nuts and bolts of using LinkedIn to build a network, and much more.
Helpful is a four-part journey into the world of professional networking. Part I — Preparation, makes the case for networking and tells how it grew out of my life experience and ineptitude at savvy networking. Part II — The Networking Mindset, defines how to think about networking, framing it in a way that makes it natural and inviting. Part III — Networking in Action, takes the newfound mindset for networking and puts it into practice across a variety of scenarios ranging from your LinkedIn profile to effectively working a room at conferences and large events. Finally, Part IV — Networking at Work, shows how our basic mindset of networking applies within teams and organizations, becoming a valuable career tool and a transformational cultural norm.
Whether you're a natural at networking or dread it like tax day, Helpful will forever change the way you practice networking and building relationships, professional and otherwise.
Helpful is a book about professional networking. It's also a book about life, careers, and building great teams. It is at once a manifesto about how we should treat one another as well as an insanely practical guide on what to do and say build and maintain professional relationships in meaningful ways. My hope is that Helpful enables people to build more satisfying careers while also creating a positive shift in how we engage with the world.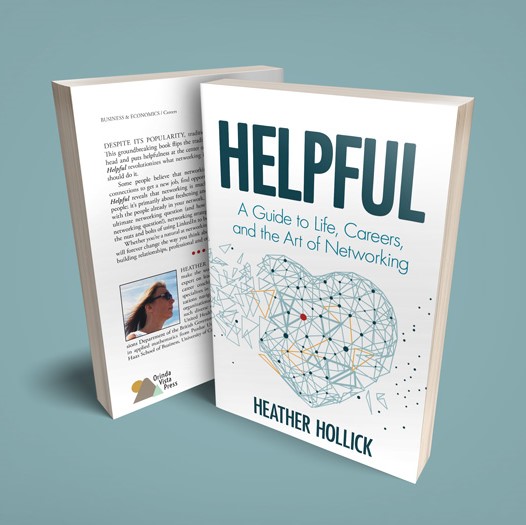 What People Are Saying…
Heather made a very positive impact on myself and the people within my organization in regards to thinking about networking in a different way and by giving us key tips to incorporate during future events. I am so happy we have a copy of her book in the office to refer to at any time. I have already read 3/4 of it. Great read!
— Lawson Perry, HireNetworks
This is a real twist on networking that is really resonating with people.
— Donna Brown, MetLife
Using the audio clip of modem connection as an analogy for why small talk is important was especially memorable. What also stuck with me was advice to only connect on LinkedIn with people that you would feel confident recommending.
— Susan Lankford, North Carolina Biotechnology Center
From our internal survey, 100% of participants "LOVED IT." There's a lot of positive chatter about the concepts Heather shared, and many people immediately took this into their LeanIn discussions.
— Donna Brown, MetLife
Her depiction of traditional networking events really hit home, like why am I at this place where I cannot hear anything and trying to network. She helped me realize there was a much bigger scope to the term networking and that it matters how fresh those connections are and that time needs to be spent to nurture your network.
— Irene Koulianos, HireNetworks
In this debut, Hollick makes a strong case for the value of learning how to network with others in professional and personal contexts. She offers concrete, actionable strategies for improving one's social skills and making networking an enjoyable practice. ... Novices and experienced workers looking to strengthen their skills will find useful insights in these pages.
— Kirkus Reviews (Full Review)
Having read your book, I believe people in every profession, including communications, sales, and nonprofit, could benefit from your insights on productive networking, starting with reframing what "networking" means.
Stephanie Zanardi, via LinkedIn
Showing the single result
Get it there…
Available wherever books are sold.
Helpful is also available at bookstores and libraries worldwide. You may have to ask the clerk or the librarian.
Advanced praise for Helpful
Effective networking and the appropriate nurturing of relationships is of utmost importance in so many aspects of business. Heather's book is a unique combination of meaningful theory and quality, specific instruction. Heather lives and breathes this subject — her passion should be your guide.
— Craig Stone, CEO of Hire Networks
Heather Hollick speaks eloquently to those who do not have a network and are unsure of how to build one. The detail that she provides is impressive. If you are an introvert, you may  feel that the first several chapters are talking directly to you. Regardless of whether you are an introvert or extrovert, this book provides a roadmap – with real world examples and practical tips – for creating your own network. This book is a must read for anyone seeking to build and grow connections with others both within and outside organizations.
— Jim and Dana Robinson, Co-Authors, Performance Consulting (via Amazon)